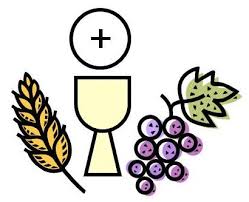 The celebration of the Eucharist is the source and summit of the Christian life. 

Jesus gives himself, his Body and Blood, for us so that we too might give ourselves to him in love and be united with him in Holy Communion. In this way we are joined with the one Body of Christ, the Church.

Our parish begins its preparation for First Holy Communion and Reconciliation (Confession) in September for both children (who are to be the age of not less than 8 years) and parents in order for children to receive Our Blessed Lord for the first time around the time of Corpus Christi in May or June.  The whole parish will give you our full support and prayers if you decide your child should make his or her First Communion at St Etheldreda's.  There will be a first meeting for parents each September at which they will agree to bring their children both to Mass and to regular preparation classes.

These months of preparation are an important time for the children to become more familiar with the church and Sunday Mass.  It is also the time for parents to take a further step in fulfilling the promise they made at their children's Baptism of bringing them up in the practice of the Faith.

Parents are the first and best teachers of their children in the ways of faith.  If your child is already familiar with the Mass these months are your opportunity to teach them a little more about the love of Christ to be found in the Sacraments of Reconciliation (Confession) and the Eucharist (Holy Communion).

Our 11am Sunday Mass has the added advantage of the 'Children's Liturgy' when your child can join others in a separate group to celebrate the Mass in a simpler way while learning a little about it.

If you wish your child to make his or her First Communion, please complete the form you can find at the back of the church, giving it to Fr Tony or Deacon John and see the latest newsletter for further information.