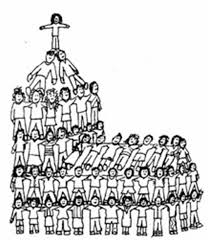 Fr Tony and Deacon John plan to hold a regular Parish Forum so that they can feed back to parishioners information about progress on parish projects and answer any questions they might have.  The next Parish Forum is planned for Thursday, 16th March 2017.
PARISH GROUPS
FINANCE COMMITTEE
St Etheldreda's Finance Committee consists of:
Michelle Seidler – Chair
Tony Grzybek – Treasurer
Angela Bishop – Secretary
Gerald Fox
Jonathan Skerrett
Stephen Seidler
Fr. Tony Shryane
Rev John Steel
ST VINCENT DE PAUL
The St Vincent de Paul Society meets on Monday evenings at 7:30 p.m. in the Parish Room.
An International Society for men and women of all ages dedicated to relieving all forms of poverty, through personal contact and friendship regardless of race, creed or ideology. The Society works mainly in parish groups addressing local needs, and also provides shops, furniture stores and advice centres in some areas. New members are always welcome.
Contact the local President
JOURNEY IN FAITH
This group usually meet on a Wednesday evening at 7:30 p.m. in the Parish Room. It is for those people who wish to become full members of the Catholic Church and want to know more about the practices and teachings of the Catholic Church. Meeting are usually for an hour every week from September to Easter.
Contact Fr. Tony
LEARNING MORE ABOUT OUR FAITH, THE CHURCH AND ITS TEACHINGS
This group meets on Thursday evening at 7:30 p.m. in the Parish Room. The group consist of people who would like to explore the Catholic faith and to learn how their faith can become richer and deeper in their everyday lives.
Contact Deacon John
MARRIAGE CARE – 0800 389 3801
Local Centre: Newmarket & Cambridge
The National Organisation was established in 1946 to support Marriage and Family Life, Marriage Care provides free confidential counselling service for adults in 54 centres throughout England and Wales. Professionally trained marriage counsellors offer counselling for those with marital and relationship difficulties and short courses for couples preparing for marriage. They act as resource for parents and teachers who are responsible for personal and sex education for the young.
PRAYER GROUPS
ECUMENICAL PRAYER GROUP
This group meets on the fourth Wednesday of every month in the Parish Room.
Contact Fiona Abbott
PRAYING FOR PRIESTS
This group meets on Friday evenings at 7:30 p.m. to pray for Priests and vocations to the Priesthood.
Contact Neil Watson
CAFOD GROUP
The Parish has a tradition of being very supportive of the work of Cafod. The Committee aim to promote the work of Cafod in the Parish through regular updates and a display in Church. We also arrange activities to raise awareness and funds. We support the Lent and Harvest Fasts and promote Goodgifts at Christmas. We always respond to disaster appeals.
We are twinned with two communities in Cambodia; Samrong Meanchey, a community of people whose lives are touched by HIV. A group of parishioners who visit Cambodia every two years have visited the community to see ongoing progress. Pouk is a new twinning through Connect2Cambodia. The people are mostly farmers trying to grow food in a drought area.
Through the year parishioners give regularly and we are able to send funds to Cambodia and to Cafod general funds. Anyone willing to help is most welcome. Further information about Cafod can be found on their website Cafod.org.uk
SACRAMENTAL PREPARATION
BAPTISM
Baptisms by arrangement with the Parish Priest after couples have attended a course of instruction. This takes place on the fourth Sunday of the month in the Parish Room at 1 p.m. The course usually last up to two hours and if possible parents should come without their child/children as no facilities are available for child care.
FIRST HOLY COMMUNION PREPARATION
Classes take place on Sunday morning from September to June, starting at 10:30 a.m. in the Parish Room. It is expected that the parents attend the 11 a.m. Mass and the children join them after their class at the Offertory and stay for the remainder of the Mass.
Children should be eight years old before they receive First Holy Communion. The classes also prepare the children to receive the Sacrament of Reconciliation (Confession) during this time.
There are five parents meetings during the time of preparation and at least one parent should be present for each of these meetings. These meetings help parents understand what their children are being taught so that they help them with the commitment they are making in this stage of their young lives in their journey of faith.
CONFIRMATION
A Confirmation Group is held every two years and children should be in School Year 8 when they start the class. The choice to attend the group is made by the individual who wants to be confirmed and wishes of their own will to take this next step in their faith journey.
Dates when the group meets will be published in the newsletter and on the website.
MARRIAGE
At least six months' notice is required for those wishing to be married in the Church.
Couples are expected to attend a marriage preparation course for which a charge is made. It is also usual to make a donation to the Church for the wedding. If flowers are required in the Church couples are expected to provide them, because of the particular needs of the couple to co-ordinate colours etc.
OTHER GROUPS
FLOWER ARRANGERS
We have a very small group of people who ensure that there are flowers in the Church. If you would like to help either on a regular basis or now and again, please contact Stella Fox – stella.b.fox@btinternet.com